RF-TENDON Design Add-on Module for RFEM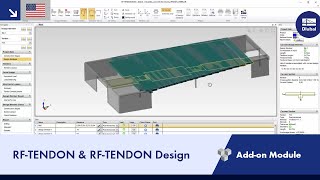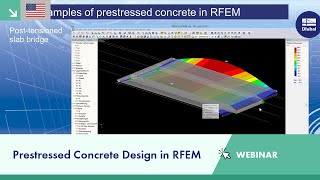 Prestressed Concrete Design According to Eurocode 2
RF-TENDON Design performs the design of prestressed concrete members with pre‑tensioned and post‑tensioned concrete based on the results calculated in RF‑TENDON and RFEM. The following standards apply:
EN 1992-1-1
EN 1992-2
Clearly arranged input windows
Design of axial force, biaxial bending, shear, torsion and combined internal forces
Ultimate and serviceability limit state design of relevant design situations
Currently, the following National Annexes of EN 1992-1-1 (EC 2) are available:

ÖNORM B 1992-1-1/NA:2007-04 (Austria)
NBN 1992-1-1 ANB:2007 (Belgium)
CSN EN 1992-1-1/NA:2006-11 (Czech Republic)
DIN EN 1992-1-1/NA:2013-04 (Germany)
NEN EN 1992-1-1/NA:2007-04 (Netherlands)
PN EN 1992-1-1:2008/NA:2010 (Poland)
SS EN 1992-1-1/NA:2008-06 (Singapore)
STN EN 1992-1-1/NA:2008-06 (Slovakia)

Optional design in user-defined or automatically generated sections
User-friendly input tools for definition of "weak", non-prestressed reinforcement
Clear specification of exposure classes
Optional user-defined input of creeping coefficient
Well-arranged result tables
Stress-strain diagrams for different locations on the cross-section
Detailed documentation of results with reference to design equations used and described in the standard
Descriptive graphics in printout report
Export of results in printout report or RTF file

After opening RF-TENDON Design, all data determined in RF-TENDON are imported.

In addition to the already defined pre-stressed concrete reinforcement, you can specify non-prestressed longitudinal and shear reinforcements. For this, you can use a variety of user-friendly input tools. The reinforcement layout is dimensioned automatically, facilitating the check of entered data.

RF-TENDON Design performs design of prestressed concrete members according to EN 1992-1-1 and optionally according to EN 1992-2. Among others, the following designs are performed: load bearing capacity, shear, torsion, interaction, stress limitation, crack width, and more.

In addition to the general designs, the module checks if the reinforcement rules according to Eurocode 2 are met.

The results are displayed in clearly arranged tables including corresponding graphics. It is also possible to display stress-strain diagrams for different locations on the cross-section.

You can select designs and their extent to be included in the printout report. For comprehensibility reasons, the graphics integrated in the printout report are listed in tables. You can print the report or export it in an RTF file.
Contact us
Do you have any questions about our products or need advice on selecting the products needed for your projects?
Contact us via our free e-mail, chat, or forum support or find various suggested solutions and useful tips on our FAQ page.
Price
Customers who bought this product also bought