Connections in steel structures | Dlubal Software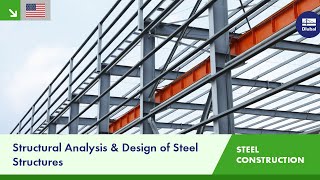 First Steps with RFEM
We provide hints and tips to help you get started with the basic program RFEM.


Description
Dlubal Software offers you powerful add-on modules for the design of your steel connections.
Whether frame corners, column feet, hinged and rigid beam connections, Sikla or tower connections or hollow profile connections ...
Design your connections according to Eurocode - in addition to all cross-section and stability analyzes - directly on the entire structural model.
Save yourself the time for determining geometric data or internal forces for your connection analysis.
Export your connections to CAD programs and document design dimensions and graphics in clearly arranged reports.

Design your structure even more economically by considering the deformation behavior of your connections when determining the internal forces of your structure. The necessary rotational stiffnesses (rotational stiffness Sj; initial rotational stiffness
Sj, ini; Initial stiffness Sj, app ...) are determined by our add-on modules such as JOINTS and FRAMMECK Pro.
With JOINTS, you can design all common pinned and moment-bearing beam-beam and beam-column connections.
Design shear force connections with "JOINTS Steel - Hinged".
"JOINTS Steel - DSTV" designs moment-resistant and hinged typed I-beam connections.

With "JOINTS - Column Base", you can design hinged and restrained column bases according to Eurocode 3. Select between various bucket and base plate connections.
The program displays all necessary design dimensions as well as the corresponding hole patterns.

The FRAME-JOINT Pro add-on module dimensionally (by means of the component method) rigidly bolted connections between column and beam members.
Classification and design are displayed in clearly arranged tables. Like the graphics, they can be printed in the printout report, but can also be exported to other applications, such as Microsoft Excel.

Do you have your own connection solutions with defined ultimate limit states? Let us determine it for your structure with LIMITS! Create your own databases in LIMITS and always use your fasteners. DSTV connections are included in the delivery.
Keywords
Frame Joint Bucket DSTV Steel connection Rotational stiffness Dynamic analysis Design EC Eurocodes BIM Building Information Modeling CAD FEA Finite elements Finite element method Structural Design Tutorial RFEM Tutorial Dlubal Webinar Structural Analysis Student 3d Windows Bridge AutoCAD Excel Internal forces distributed load Frame Sj ini Sikla Base Plate Bolt Component Method
Links
Write Comment...
Write Comment...
Contact us
Do you have any questions about our products or need advice on selecting the products needed for your projects?
Contact us via our free e-mail, chat, or forum support or find various suggested solutions and useful tips on our FAQ page.
RF-/JOINTS Steel - Rigid | Features
General
Beam to Column joint category: connection possible as joint of the beam to the column flange as well as joint of the column to the girder flange
Beam to Beam joint category: design of beam joints as both moment resisting end plate connections and rigid splice connection
Automatic export of model and load data possible from RFEM or RSTAB
Bolt sizes from M12 to M36 with the strength grades 4.6, 4.8, 5.6, 5.8, 6.8, 8.8 und 10.9 as long as the strength grades are available in the selected National Annex
Almost any bolt spacing and edge distances (a check of the allowable distances is performed)
Beam strengthening with tapers or stiffeners on the top and bottom surface
End plate connection with and without overlap
Connection with pure bending stress, pure normal force load (tension joint) or combination of normal force and bending possible
Calculation of connection stiffnesses and check if a hinged, semi-rigid or rigid connection exists
End plate connection in a beam-column setup
Joint beams or columns can be stiffened with tapers on one side or with stiffeners to one or both sides
Wide range of possible stiffeners of the connection (e.g. complete or incomplete web stiffeners)
Up to ten horizontal and four vertical bolts possible
Connected object possible as constant or tapered I-section
Designs:

Ultimate limit state of the connected beam (such as shear or tension resistance of the web plate)
Ultimate limit state of the end plate at the beam (e.g. T-stub under tensile stress)
Ultimate limit state of the welds at the end plate
Ultimate limit state of the column in the area of the connection (e.g. column flange under bending – T-stub)
All designs are performed according to EN 1993-1-8 and EN 1993-1-1
Moment resisting end plate joint
Two or four vertical and up to 10 horizontal bolt rows
Joint beams can be stiffened with tapers on one side or with stiffeneres to one or both sides
Connected objects are possible as constant or tapered I-sections
Designs:

Ultimate limit state of the connected beams (such as shear or tension resistance of the web plates)
Ultimate limit state of the end plates at the beam (e.g. T-stub under tensile stress)
Ultimate limit state of the welds at the end plates
Ultimate limit state of the bolts in the end plate (combination of tension and shear)
Rigid splice plate connection
For the flange plate connection, up to ten bolt rows one behind the other possible
For the web plate connection, up to ten bolt rows possible each in vertical and horizontal direction
Material of the cleat can be different from the one of the beams
Designs:

Ultimate limit state of the joint beams (e.g. net cross-section in the tension area)
Ultimate limit state of the cleat plates (e.g. net cross-section under tensile stress)
Ultimate limit state of the single bolts and the bolt groups (e.g. shear resistance design of the single bolt)