RFEM Webinar 3: Integration with BIM Workflows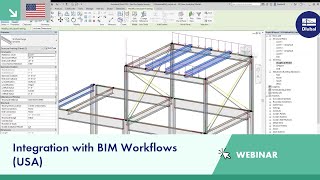 "RFEM is everything I expected and more. I'm having a blast learning the software and the webinars are fantastic."
Date
Event Language
English
Content
Revit Integration with RFEM utilizing the direct link
Explore various scenarios of Revit to RFEM import/export
Round-tripping of updated model between programs
Useful tips for a more optimized integration
Other BIM options in RFEM including Tekla, AutoCAD, etc.
Time Schedule
Up to 00:01:20: Introduction
Up to 00:06:40: Difference of file based and direct data exchange
Up to 00:09:50: Difference between analytical and physical model
Up to 00:32:00: The analytical model in Revit, relevant objects and exchange scenarios
Up to 00:48:50: Advanced load and combination generation in RFEM vs Revit, design procedure and updating modifications from RFEM to Revit
Up to 00:50:10: Export to Tekla Structures
Up to 00:54:50: Workflow Export-Calculate-Import with Revit, concrete model, import of results
Up to 00:56:30: Exchange of partial models from Revit to RFEM
Up to 01:01:50: Export of models from Tekla Structures to RFEM, analytical model, round-trip procedure
Up to 01:05:15: Import of IFC file (coordination view) and conversion to native RFEM objects
Up to 01:07:45: Export to Bentley ISM Structural Synchronizer
Up to 01:09:55: Closing remarks
Amy Heilig, PE
CEO - USA Office
Sales & Technical Support Engineer
Amy Heilig is the CEO of the USA office located in Philadelphia, PA. In addition, she provides sales and technical support and continues to aid in the development of Dlubal Software programs for the North American market.
Keywords
BIM BIM integration Revit Autodesk Revit Tekla Tekla Structures IFC Bentley
Contact us
Do you have questions related to our webinars? Are you looking for suggestions on which webinar is relevant for your design projects?
Contact us via our free e-mail, chat, or forum support or use our FAQ page.