Seismic Equivalent Loads Using the Response Spectrum Analysis in RFEM
Explore More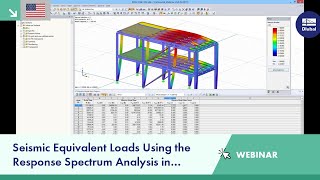 Free Online Seminar
Length: 1:06:47 h
Content
Introduction to the RF‑DYNAM Pro add‑on modules
Analysis of natural frequencies and mode shapes
Perform a response spectrum analysis according to the IBC 2012 / ASCE 7‑10
Apply generated equivalent static loads in RFEM
Time Schedule
Up to 00:07:00: Introduction and concept of the RF‑DYNAM Pro add‑on modules
Up to 00:24:00: Analysis of natural frequencies and mode shapes
Up to 00:30:00: Response spectrum analysis according to IBC 2012 / ASCE 7‑10
Up to 00:55:00: Application of generated equivalent static loads in RFEM
Up to 01:05:00: New features for next RFEM release
Speakers
Amy Heilig, M.S., P.E.
CEO of Dlubal Software, Inc. & Customer Support
Amy Heilig is the CEO of the US office located in Philadelphia, PA. In addition, she provides sales and technical support and continues to aid in the development of Dlubal Software programs for the American and Canadian market. She is the presenter for this webinar.
Dipl.-Ing. (FH) Stefan Frenzel
Product Engineering & Customer Support
Mr. Frenzel is responsible for the development of DYNAM products. Additionally, he provides technical support for Dlubal Software customers. He presents new features of dynamic analysis in the next RFEM release.
Keywords
IBC, IBC 2012, IBC 2015, ASCE 7, ASCE 7‑10, ASCE 7 seismic analysis, ASCE 7 earthquake analysis, seismic, seismic analysis, earthquake, earthquake analysis, equivalent loads, response spectrum analysis, RSA
Contact us
Do you have questions related to our webinars? Are you looking for suggestions on which webinar is relevant for your design projects?
Contact us for more information or visit our FAQ page to find answers to commonly asked questions.