ACI 318-14 Concrete Slab Design in RFEM
Explore More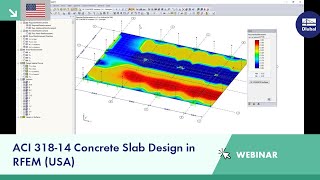 Free Online Seminar
Length: 1:09:27 h
Content
Modeling, loading, and analysis of reinforced concrete slabs in RFEM
ACI 318-14 strength and serviceability design with the add‑on module RF‑CONCRETE Surfaces
Explore both automated and user-defined reinforcement areas
Deflection analysis considering creep/shrinkage with the add‑on module RF‑CONCRETE Deflect
Time Schedule
Up to 02:20: Introduction
Up to 04:55: Concept of the RF‑CONCRETE add‑on modules
Up to 19:40: Example – Introduction, model and loads
Up to 34:00: Example – Case 1: Strength limit state design
Up to 45:08: Example – Case 2: Strength & Service limit state design with basic reinforcement
Up to 56:32: Example – Case 3: Strength & Service limit state design with user‑defined reinforcement areas
Up to 1:06:30: Example – Case 4: Deflection analysis with RF‑CONCRETE Deflect
Up to 1:07:47: Example – Export of reinforcement
Up to 1:09:27: Closing words
Speakers
Amy Heilig, M.S., P.E.
CEO of Dlubal Software, Inc.
Sales & Technical Support Engineer
Amy Heilig is the CEO of the US office located in Philadelphia, PA. In addition, she provides sales and technical support and continues to aid in the development of Dlubal Software programs for the American and Canadian market. She is the presenter for this webinar.
Dipl.-Ing. Moritz Bertram
Product Engineering & Customer Support
Mr. Bertram is responsible for the development of CONCRETE modules and technical support at Dlubal Software. He is the moderator of this webinar.
Keywords
ACI, ACI 318, ACI 318‑14, reinforced concrete design, concrete design, ULS, SLS, slab design, slab analysis, ACI slab design, ACI slab analysis
Contact us
Do you have any questions about our webinars? Do you need advice for choosing a webinar to watch?
Contact us or find various suggested solutions and useful tips on our FAQ page.