3D Structural & BIM Software
3D Planning According to BIM
Structural analysis programs by Dlubal Software support planning according to the method of Building Information Modeling (BIM).
This is primarily achieved through the numerous interfaces for data exchange in RSTAB and RFEM.
Integration in Autodesk Revit Structure
Revit Structure displays comprehensive building structures in an easy way with physical and analytical models including every detail. The modeling of structure is fully automated. Also, it is possible to define static objects such as releases, supports, and loads. Since the quality of a structural model always depends on a physical architectural model, the error sources are minimized.
Reference Customer AGA-Bau
The AGA-Bau company parametrically uses the newest software technology by Autodesk and Dlubal Software.
www.agabau.at
Reference Customer b.i.m.m
The b.i.m.m GmbH company acts as a general planer and "attendant" for the implementation of working processes based on models in the building industry and develops its own software for this purpose.
www.bimm.eu
Contact us
Do you have any questions about our products? Do you need advice for your current project?
Contact us or find various suggested solutions and useful tips on our FAQ page.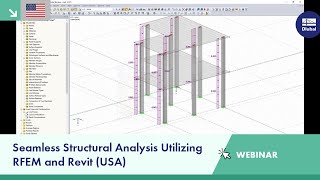 Customer Projects
Interesting customer projects designed with the structural analysis programs by Dlubal Software.