Analysis and Design Software for Container Structures
Analysis and Design Software for Container Structures
With the FEA Software RFEM, it is possible to perform the structural analysis and design for containers (shipping containers, office containers, mobile homes, etc.).
RFEM offers member, surface and solid elements for detailed modelling. All components can be designed in the corresponding add-on modules.
The structural engineering software for analysis and design RFEM is the basis of a modular software system. The main program RFEM is used to define structures, materials, and loads for planar and spatial structural systems consisting of plates, walls, shells and members. The program also allows you to create combined structures as well as model solid and contact elements.
For structural analysis of containers, find more useful add-on modules under the Steel Structures industry.
Knowledge Base | Container Structures
Design of Fillet Welds According to EN 1993-1-8

A fillet weld is the most common weld type in steel building construction. According to EN 1993‑1‑8, 4.3.2.1 (1) [1], fillet welds may be used for connecting structural parts where the fusion faces form an angle between 60° and 120°.

Calculating Critical Load Factor for Linear Buckling Analysis

Buckling analysis according to the effective width method or the reduced stress method is based on the determination of the system critical load, hereinafter called LBA (linear buckling analysis). This article explains the analytical calculation of the critical load factor as well as utilisation of the finite element method (FEM).
Contact us
Do you have any questions about our products? Do you need advice for your current project?
Contact us or find various suggested solutions and useful tips on our FAQ page.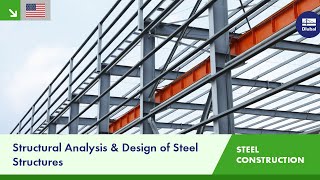 Application Examples Container Structures
Recommended for Container Structures