RFEM 5 - Special Features to Be More Competitive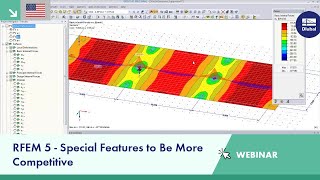 First Steps with RFEM
We provide hints and tips to help you get started with the RFEM program.
Free Online Webinar
This webinar focuses on selected functions in RFEM that help users to be faster and more productive when using RFEM. The webinar is ideal for beginners who want to know more about the structural analysis program by Dlubal Software.
Length: 1:31:03 h
Content
Modeling techniques
Load generation
Analysis troubleshooting
Other useful features
Time Schedule
Up to 00:02:35: Introduction to special features in RFEM 5
Up to 00:07:55: Dividing a member using distance and generating surfaces from members
Up to 00:09:15: Move or copy elements
Up to 00:12:45: Connecting members with surfaces
Up to 00:13:42: FE mesh settings
Up to 00:29:05: Structural analysis, graphical results and optimizing the structure
Up to 00:44:15: Editing parameters of a model and parametric modeling
Up to 00:45:40: Block manager - parametric structures
Up to 00:54:30: Pipes and intersections
Up to 01:13:00: Handling singularities and working with result diagrams
Up to 01:20:20: Stability analysis of a steel frame structure in RF-STABILITY
Up to 01:27:00: Plausibility check
Up to 01:31:03: Closing remarks
Speaker
M.Eng. Dipl.-Ing. (FH) Walter Rustler
Sales Director & Customer Support
Mr Rustler is the representative of Dlubal Software GmbH as well as marketing director. Also, he participates in product development. He is the presenter for this webinar.
Keywords
finite element analysis, FEA, FE mesh, model generation, parametric modeling, intersection, singularity, stability analysis, plausibility check
Contact us
Do you have questions related to our webinars? Are you looking for suggestions on which webinar is relevant for your design projects?
Contact us for more information or visit our FAQ page to find answers to commonly asked questions.