Why Dlubal Software?
Dlubal Software Advantages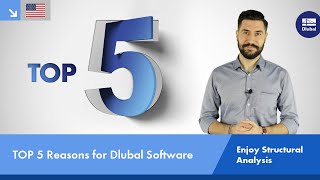 Certified
Development, testing, sale, and support of Dlubal Software is certified for the management system according to DIN EN ISO 9001.
Wind Simulation & Wind Load Generation
It's getting windy here! Send your structures to the digital wind tunnel using the stand-alone program RWIND 2. It simulates wind flows around structures, regardless of whether they are simple or complex.
You can easily import the generated wind loads acting on these objects into RFEM or RSTAB and use them for your further calculations.


Compelling Argument for Dlubal Software
"I am very surprised by the positive response because it is not so common to pay such attention to users (and I am not even a customer yet). Therefore, I would like to express my enthusiasm and thank you very much. This is clearly a compelling argument to join the circle of Dlubal Software users."
There are many advantages when using Dlubal Software. Check out a small selection of the benefits below.
The sale goes far beyond the initial purchase! We continue to support our customers with access to the highest level of customer support as well as access to frequent program updates. Additionally, we are here to guide you on which Dlubal products are the right fit for your design projects.
Contact Us
Do you have any questions about our products or which are best suited for your design projects? Contact us via phone, email, chat, or forum, or search the FAQ page, available 24/7.
RFEM is a Reliable Partner for My Daily Tasks
"Many thanks for yesterday's Dlubal Info Day which was perfectly planned and held by very well-trained staff.
RFEM is a reliable partner for my daily tasks in building construction, just great!"