3D Structural & BIM Software
3D Planning According to BIM
Structural analysis programs by Dlubal Software support planning according to the method of Building Information Modeling (BIM).
This is primarily achieved through the numerous interfaces for data exchange in RSTAB and RFEM.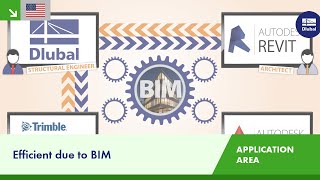 Further information
Pleasant and Comfortable Work with Dlubal Software
"As usual, I would like to confirm that it is a real pleasure to work with the Dlubal Software programs, which I have been able to use with ease.
I am also completely satisfied with the connection to REVIT 2017 as it complies with a very high standard and works well."
Smooth Data Exchange
"The data exchange between cadwork and RSTAB has gone without a hitch."
---
Efficient Planning with BIM
BIM (Building Information Modeling) is an efficient working method for the planning and realization of buildings, which is based on a network of all participants in the building process.
All relevant building data is included in a 3D model, which is then used throughout all of the planning stages. In this way, it is not necessary to use different models created in various CAD and structural analysis software, but the same model, which can be directly transferred between the programs.
Contact us
Do you have any questions about our products? Do you need advice for your current project?
Contact us or find various suggested solutions and useful tips on our FAQ page.
BIM Integration
Download a short brochure about the seamless BIM integration with Dlubal Software for structural engineering.
Customer Projects
Interesting customer projects designed with the structural analysis programs by Dlubal Software.