SHAPE-THIN - Thin-Walled Cross-Sections
Various Open and Closed Thin-Walled Cross-Sections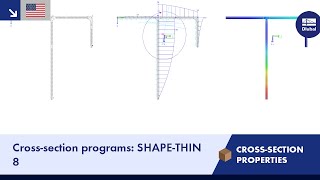 Further Information
Properties and Stresses of Thin-Walled Cross-Sections
The stand‑alone program SHAPE‑THIN determines section properties of open and closed thin‑walled cross‑section and performs the stress analysis and plastic design.
SHAPE-THIN provides the option of interface with RFEM and RSTAB: SHAPE‑THIN cross‑sections are available in the library of the FEA or frame analysis software, and vice versa, it is possible to import and design the internal forces from RFEM and RSTAB in SHAPE‑THIN.
The structural data can be entered graphically, in tables, or by means of a DXF file.
Contact us
Do you have any questions about our products? Do you need advice for your current project?
Contact us or find various suggested solutions and useful tips on our FAQ page.
Customer Projects
Interesting customer projects designed with the structural analysis programs by Dlubal Software.
Price (VAT excl.)