RF-/DYNAM Pro - Nonlinear Time History Add-on Module for RFEM/RSTAB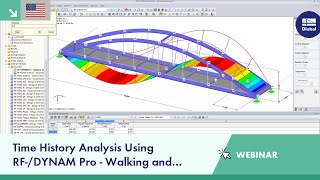 Extension of RF-/DYNAM Pro for Time History Analysis Considering Nonlinearities
The RF‑/DYNAM Pro - Nonlinear Time History add‑on module allows for nonlinear dynamic analysis to external excitation. Various excitation functions can be defined in a tabular form, as harmonic loads or as a function of time. The nonlinear time history analysis is performed with the nonlinear implicit Newmark analysis (RFEM only) or the explicit analysis. This module extension abolishes the limitation to linear systems in dynamics.
For RFEM, the add‑on module is currently still available as a beta version.
Contact us
Do you have any questions about our products? Do you need advice for your current project?
Contact us or find various suggested solutions and useful tips on our FAQ page.
Customer Projects
Interesting customer projects designed with the structural analysis programs by Dlubal Software.
Price
Screenshots
Customers who bought this product also bought