RF-/DYNAM Pro - Equivalent Loads Add-on Module for RFEM/RSTAB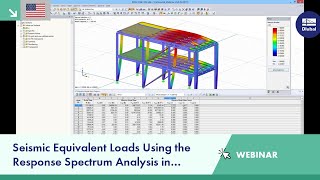 Customer Projects
Interesting customer projects designed with the structural analysis programs by Dlubal Software.
Extension of RF-/DYNAM Pro - Natural Vibrations Module for Static Load Analysis Using Multi-Modal Response Spectrum Analysis
The RF-/DYNAM Pro - Equivalent Loads add‑on module performs seismic analysis using the multi-modal response spectrum analysis. The required spectra can be created according to the standards or user‑defined. Subsequently, the equivalent static loads are generated.
Features

Response spectra according to various standards
The following standards are implemented:

EN 1998-1:2010 + A1:2013 (European Union)
DTR B C 2-48 (Algeria)
DTR RPA99 (Algeria)
CIRSOC 103 (Argentina)
AS1170.4 (Australia)
ÖNORM B 4015:2007-02 (Austria)
NBC 2015 (Canada)
NCh 433 1996 (Chile)
GB 50011-2001 (China)
GB 50011-2010 (China)
NSR - 10 (Colombia)
DIN 4149:1981-04 (Germany)
DIN 4149:2005-04 (Germany)
IS 1893:2002 (India)
NTC 2008 (Italy)
CFE Sismo 08 (Mexico)
SBC 301:2007 (Saudi Arabia)
SANS 10160‑4 2010 (South Africa)
NCSE-02 (Spain)
SIA 261/1:2013 (Switzerland)
SIA 261/1:2014 (Switzerland)
O.G. 23089 + O.G. 23390 (Turkey)
IBC 2000 (USA)
IBC 2009-ASCE/SEI 7-05 (USA)
IBC 2012/15 - ASCE/SEI 7-10 (USA)

The following National Annexes are available for EN 1998‑1:

NA to BS EN 1998-1:2004:2008 (United Kingdom)
ÖNORM EN 1991-1-1:2011-09 (Austria)
NBN - ENV 1998-1-1: 2002 NAD-E/N/F (Belgium)
CYS EN 1998-1/NA:2004 (Cyprus)
CSN EN 1998-1/NA:2007 (Czech Republic)
NF EN 1998-1-1/NA:2014-09 (France)
DIN EN 1998-1/NA:2011-01 (Germany)
UNI-EN 1991-1-1/NA:2007 (Italy)
NS-EN 1998-1:2004+A1:2013/NA:2014 (Norway)
NP EN 1998-1/NA:2009 (Portugal)
SR EN 1998-1/NA:2004 (Romania)
STN EN 1998-1/NA:2008 (Slovakia)
SIST EN 1998-1:2005/A101:2006 (Slovenia)

Input of user-defined response spectra
Direction-relative response spectra approach
Manual or automatic selection of the relevant mode shapes for response spectra (5 % rule from EC 8 applicable)
Generated equivalent static loads exported into load cases separately for each mode and direction
Result combinations by modal superimposition (SRSS rule) and by direction superimposition (SRSS or CQC rule)
Signed results based on the dominant mode shape can be generated

Input

The input parameters of the selected standards are proposed by the program. Furthermore, it is possible to enter response spectra manually. Dynamic load cases define a direction of response spectra effects and the structure eigenvalues that are relevant for the analysis.

Calculation

Equivalent static loads are generated separately for each relevant eigenvalue and excitation direction. They are exported to static load cases to perform the linear static analysis in RFEM/RSTAB.

Results

The equivalent load analysis calculation generates load cases and result combinations. The load cases include the generated equivalent loads, which are subsequently superimposed in result combinations. First, the modal responses are superimposed with the SRSS or CQC rule.

Afterwards, the directional components of earthquake actions are combined with the SRSS or the 100 % / 30 % rule.

Pushover Analysis

In RFEM, it is possible to determine pushover curves (also called capacity curves) and export them to Excel.
Contact us
Do you have any questions about our products? Do you need advice for your current project?
Contact us or find various suggested solutions and useful tips on our FAQ page.
Price
Customers who bought this product also bought