RF-/STEEL AISC Add-on Module for RFEM/RSTAB
Further Information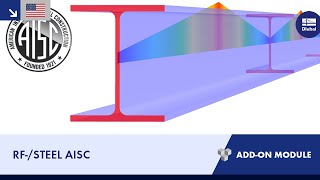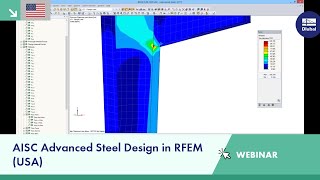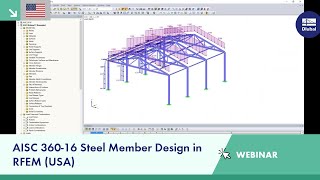 Design of Steel Members According to American Standard ANSI/AISC 360
The RF-/STEEL AISC add-on module performs the ultimate and the serviceability limit state designs of members and sets of members according to the American standards ANSI/AISC 360‑05, ANSI/AISC 360‑10 and ANSI/AISC 360‑16, including the analysis methods according to:
Load and Resistance Factor Design (LRFD),
Allowable Stress Design (ASD).
Design of members and sets of members for tension, compression, bending, shear, combined internal forces, and torsion
Stability analysis of buckling and lateral torsional buckling
Optional application of discrete lateral supports to beams and continuous members
Automatic determination of the ideal elastic critical moment Mcr for each member or set of members on every x-location according to the Eigenvalue Method or by comparing moment diagrams. You only have to define the lateral intermediate supports.
Module extension RF-/STEEL Warping Torsion (the licence is required) for stability analysis according to the second‑order theory as stress analysis, including consideration of 7th degree of freedom (warping)
Automatic cross-section classification (compact, noncompact, and slender)
Serviceability limit state design (deflection)
Cross-section optimization
Wide range of cross-sections available, for example rolled I-sections, C-sections, T-sections, angles, rectangular and circular hollow sections, round bars, symmetrical, asymmetrical and parameterized I- and T-sections as well as angle irons and double angles
Clearly arranged input and result windows
Detailed result documentation including references to design equations of the standard used
Various filter and sorting options of results including result lists by member, cross-sections, x-location, or by load case, load and result combination
Result window of member slenderness and governing internal forces
Parts list with weight and solid specifications
Seamless integration in RFEM/RSTAB
Metric and imperial units

The AISC 360 design option is set according to ASD or LRFD. Then, the load cases, load combinations, and result combinations are selected for design consideration. Load combinations can be generated either manually or automatically according to the ASCE 7 for example in RFEM/RSTAB.

Additional input includes intermediate lateral supports (top/bottom flange bracing), effective lengths for buckling, and other standard-specific design parameters such as the shear lag factor. For the stability analysis, you can specify for each member or set of members whether flexural buckling occurs in the strong or weak axis.
The RF-/STEEL AISC add-on module automatically determines the slenderness ratios and elastic critical buckling loads for both members and sets of members based on the boundary conditions. The elastic critical moment for lateral-torsional buckling required for the lateral-torsional buckling analysis is automatically calculated. The load application point for transverse loads which affects the torsional resistance can be considered in the detail settings. In connection with RFEM/RSTAB, the Direct Analysis Method (Ch. C) can be considered including automatic stiffness reduction factors. In turn, the Effective Length Method (App. 7) can be used instead with Effective Length Factors directly in the module.

The results sorted by load case, cross-section, member, set of members, or x-location are displayed in clearly arranged result windows. By selecting the corresponding table row, detailed information about the performed design is displayed.

The results include a comprehensible list of all material and cross-section properties, design internal forces, and design factors.

Parts lists by member/by set of members for the individual cross-section types complete the detailed and structures result presentation. To print the input and result data, you can use the global RFEM/RSTAB printout report.

For further processing of various data, it is possible to export all tables to MS Excel.
Contact us
Do you have any questions about our products or need advice on selecting the products needed for your projects?
Contact us via our free e-mail, chat, or forum support or find various suggested solutions and useful tips on our FAQ page.
Price
Customers who bought this product also bought