RF-CUTTING-PATTERN Add-on Module for RFEM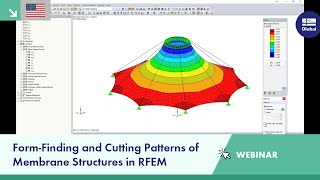 Further Information
The best I have used
"RFEM is the best I have used. I have experience with RISA, STAAD, ETABS, Visual Analysis, and others. In the tensile/fabric structure world, I've tried NDN, Forten, etc. Once you get used to RFEM's interface, it has no comparison to the others. Even with typical structures, it's much easier."
Dlubal Software is a member of the TensiNet Association.
Cutting Patterns for Tensile Membrane Structures
The RF-CUTTING-PATTERN add-on module generates and organizes cutting patterns for membrane structures. Boundary conditions of the cutting patterns on curved geometry are determined by boundary lines and independent planar cutting lines or geodesic cutting lines. The flattening process is performed according to the minimum energy theory.
For each pattern, compensation can be applied in the warp and weft direction. It is possible to set a special compensation value for each boundary line as well as overlaps for manufacturing processes.
Contact us
Do you have any questions about our products? Do you need advice for your current project?
Contact us or find various suggested solutions and useful tips on our FAQ page.
Customer Projects
Interesting customer projects designed with the structural analysis programs by Dlubal Software.
Price
Customers who bought this product also bought