RF-TENDON Add-on Module for RFEM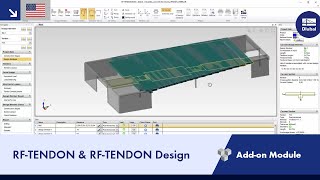 Tendon Definition in Prestressed Concrete Members
The RF-TENDON add‑on module determines the tendon layout within concrete members and the equivalent prestressing forces.
The module represents a basis for design of prestressed concrete with pre‑tensioned and post‑tensioned concrete according to EN 1992‑1‑1 and EN 1992‑2 in the RF‑TENDON Design add‑on module.
Contact us
Do you have any questions about our products? Do you need advice for your current project?
Contact us or find various suggested solutions and useful tips on our FAQ page.
Customer Projects
Interesting customer projects designed with the structural analysis programs by Dlubal Software.
PRICE for RFEM (VAT excluded)
RF-TENDON 5.xx

2,060.00 USD

Next License

927.00 USD