RF-TENDON Add-on Module for RFEM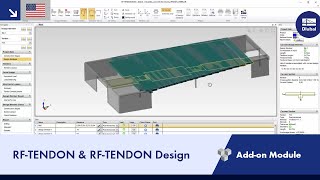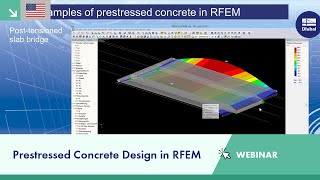 Tendon Definition in Prestressed Concrete Members
The RF-TENDON add‑on module determines the tendon layout within concrete members and the equivalent prestressing forces.
The module represents a basis for design of prestressed concrete with pre‑tensioned and post‑tensioned concrete according to EN 1992‑1‑1 and EN 1992‑2 in the RF‑TENDON Design add‑on module.
Import of cross-sections, materials, and loads from RFEM
Input of straight and parabolic tendons, layout definition of prestressing steel
Automatic calculation of prestressing forces and equivalent member loads
Transfer of equivalent loads to RFEM
Consideration of short-term losses resulting due to friction, anchorage slippage, relaxation, elastic deformation of concrete, and so on
Results of tendon strains before and after anchorage
Calculation of the minimum and maximum stresses in tendons
Internal forces results in defined sections
Optional calculation of RF-TENDON Design in background
Clear representation of tendon layout in 3D rendering
Printout or RTF export of results
Settings of display parameters and units (metric or imperial, decimal places etc.)

After creating RFEM model including load cases (load case of prestress without loading) and load combinations, you can define tendons in the add-on module. The material library provides various types of prestressing steel that can be modified. In the dialog boxes you can specify particular data, for example the number of used strands, the side of prestressed steel, and the slippage size.

It is possible to define straight and parabolic tendons automatically as well as manually in the vertical or horizontal plane. The load cases and combinations are assigned to time structural stages. Furthermore, you can define the position of design locations.

The RF-TENDON module automatically calculates equivalent loads due to prestress. The equivalent loads are transferred to RFEM where they are applied to the structure as concentrated loads. RFEM determines the internal forces, which are then returned to RF-TENDON.

RF-TENDON supports complete calculation with RF-TENDON Design in the background, for example when tendon properties or geometries are modified subsequently in RF-TENDON.

The results of the calculated equivalent prestressing forces and short-term losses are displayed in clearly-arranged result tables and graphics. In addition, internal forces are represented in defined locations or sections.

Depending on selection, the printout report includes construction stages, tendon geometry, equivalent loads, losses, and other data. Furthermore, you can add result graphics into the printout report to illustrate the results. It is possible to print the report or export it in an RTF file.
Contact us
Do you have any questions about our products or need advice on selecting the products needed for your projects?
Contact us via our free e-mail, chat, or forum support or find various suggested solutions and useful tips on our FAQ page.
Price (VAT excl.)
Customers who bought this product also bought