Structural Engineering Software for Analysis and Design & BIM
3D Planning According to BIM
Structural analysis programs by Dlubal Software support planning according to the method of Building Information Modeling (BIM).
This is primarily achieved through the numerous interfaces for data exchange in RSTAB and RFEM.
Pleasant and Comfortable Work with Dlubal Software
"As usual, I would like to confirm that it is a real pleasure to work with the Dlubal Software programs, which I have been able to use with ease.
I am also completely satisfied with the connection to REVIT 2017 as it complies with a very high standard and works well."
Integration in Autodesk Revit
Revit displays comprehensive building structures in an easy way with physical and analytical models including every detail. The modeling of structure is fully automated. However, manual adjustments of the analytical model are always possible. You can also define static objects such as releases, supports, and loads. Since the quality of a structural model always depends on a physical architectural model, the error sources are minimized.
Revit BIM Project "Golden Nugget"
The reference project "Golden Nugget" has been designed according to BIM (Building Information Modeling) from the architecture via civil engineering to building technology.
Project "Golden Nugget" in RFEM
The Revit structure "Golden Nugget" has been imported in RFEM by using the direct interface. The supporting structure was then designed here.
Reference Customer AGA-Bau
The AGA-Bau company parametrically uses the newest software technology by Autodesk and Dlubal Software.
www.agabau.at
Reference Customer b.i.m.m
The b.i.m.m GmbH company acts as a general planer and "attendant" for the implementation of working processes based on models in the building industry and develops its own software for this purpose.
www.bimm.eu
Knowledge Base | Interface with Autodesk Revit
Revit Interface: Export

BIM is often used when it comes to data management in civil engineering. The individual disciplines of architecture, structural design, construction, and structural monitoring are coming closer together. Building Information Modeling makes this possible.

Dlubal Software provides a wide range of formats for data exchange. The following article explains the details of the interface with Autodesk Revit and, particularly the export settings.
Contact us
Do you have any questions about our products? Do you need advice for your current project?
Contact us or find various suggested solutions and useful tips on our FAQ page.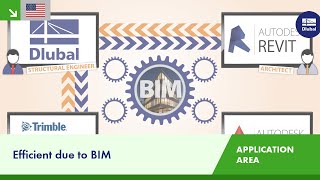 Screenshots | Interface to Autodesk Revit