Building Information Modeling (BIM)
3D Planning According to BIM
Structural analysis programs by Dlubal Software support planning according to the method of Building Information Modeling (BIM).
This is primarily achieved through the numerous interfaces for data exchange in RSTAB and RFEM.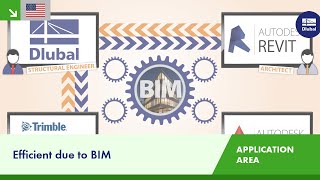 Further Information
Pleasant and Comfortable Work with Dlubal Software
"As usual, I would like to confirm that it is a real pleasure to work with the Dlubal Software programs, which I have been able to use with ease.
I am also completely satisfied with the connection to REVIT 2017 as it complies with a very high standard and works well."
Smooth Data Exchange
"The data exchange between cadwork and RSTAB has gone without a hitch."
---
Efficient Planning with BIM
BIM (Building Information Modeling) is an efficient working method for the planning and realization of buildings, which is based on a network of all participants in the building process.
All relevant building data is included in a 3D model, which is then used throughout all of the planning stages. In this way, it is not necessary to use different models created in various CAD and structural analysis software, but the same model, which can be directly transferred between the programs.
Contact us
Do you have any questions about our products? Do you need advice for your current project?
Contact us or find various suggested solutions and useful tips on our FAQ page.
BIM Integration
Download a short brochure about the seamless BIM integration with Dlubal Software for structural engineering.
Customer Projects
Interesting customer projects designed with the structural analysis programs by Dlubal Software.
Knowledge Base | Building Information Modeling (BIM)
Building Information Modeling and Structural Analysis Software: Scenarios and Success Factors for Data Exchange

Building Information Modeling describes one of the most important issues in the construction software industry. This process is not new and it's a well‑known fact that reliable planning in the early stages of a project has a significant positive effect on the project's total cost. For more than twenty years, 3D models in the steel construction industry have been utilized so that 2D production documents could be created automatically or the related NC data could be sent directly to automatic production.

In a similar fashion, structural calculations for entire 3D models are considered state of the art. For construction software, the digital models trigger an important question about data exchange and how these models can be used efficiently for various engineering software. The pure physical geometry models are not only important, but a number of other models with additional structural components should be taken into consideration. Such models consist of structural or analytical models which include mechanical material properties, boundary conditions, or loads which cannot be easily recognized with a pure physical architectural model.

These differences may cause issues when using BIM data exchange in structural engineering. Therefore, high expectations arise when it comes to BIM and structural analysis. These hurdles also present a great challenge for the developers of engineering software. This article explains the fundamental problems of data exchange and provides applicable solutions tested in practice.

BIM Workflow: Data Exchange Using IFC Files

In the BIM workflow, IFC files are frequently used as the basis for data exchange between CAD and structural engineering software. However, there is a fundamental problem with this approach. This article explains various types of IFC files, and provides an overview of the import and export options in the Dlubal Software programs.
More Articles from Knowledge Base
Associated Products