Building Information Modeling (BIM)
Efficient Structural Analysis with BIM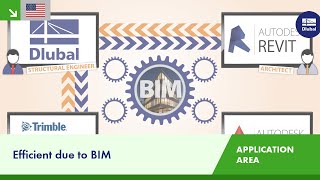 1
It is very important for Dlubal Software to provide options for planning in compliance with BIM. Numerous interfaces implemented in the structural analysis programs RFEM and RSTAB facilitate data exchange with commonly used software (such as CAD programs) and make it easy and comfortable.
The following overview shows a range of the interfaces integrated in RFEM and RSTAB by default.
2
Technology takes you further, also in your daily work with RFEM / RSTAB. The new API technology Webservice allows you to create your own desktop or web-based applications by controlling all objects included in RFEM 6 / RSTAB 9. Entire libraries and numerous functions are available to you. Thus, you can easily perform your own design checks, effective modeling of parametric structures, and optimization and automation processes using the programming languages Python and C#. Dlubal Software makes your work easier and more convenient. Convince yourself!
3
Do you enjoy working with Autodesk Revit and wish there was an interface to the Dlubal Software? Then your wish has already become a reality! The direct bidirectional interface in RFEM 6 / RSTAB 9 to Autodesk Revit makes it easy for you: A structure created in RFEM/RSTAB can be visualized in Revit and prepared for the design engineer. In the same way, it is possible to calculate and design a Revit model in RFEM/RSTAB. You can even easily align the subsequent modifications in both the Revit and the RFEM/RSTAB model. Does that sound like a dream? Then live it and read more at:
9
With the IFC interface as well as the "CAD/BIM Model", you can import IFC files and convert them to member and surface elements. This import has been optimized in cooperation with the company Dietrich's so that the corresponding cross-sections and materials are assigned automatically for member elements.
Contact Us
Do you have any questions about our products or which are best suited for your design projects? Contact us via phone, email, chat, or forum, or search the FAQ page, available 24/7.
Manuals
Pleasant and Comfortable Work with Dlubal Software
"As usual, I would like to confirm that it is a real pleasure to work with the Dlubal Software programs, which I have been able to use with ease.
I am also completely satisfied with the connection to REVIT 2017 as it complies with a very high standard and works well."
"The data exchange between cadwork and RSTAB has gone without a hitch."
---
Bar Reinforcement Export to Revit
The reinforcement proposal from RF-/CONCRETE Members can be exported to Revit. The rectangular and circular cross-sections are currently supported.
The reinforcement bars can be modified retroactively in Revit.